Ski hotels in Prémanon les rousses : compare !
Ski holiday deals ! Book your stay and get ski hire for free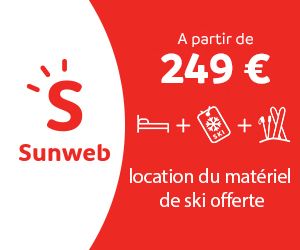 more details
Up to 20% off on ski holidays in the Alps and the Pyrenees!
more details
SEARCH RESULTS > 3 Ski offers found on 01/02/2020
Price per room and per week (administrative fees included)

Sorry but we don't have any offers available that match all of your criteria..We suggest you to modify your search.. However, here is a list of results partially matching your search.
Lowest Price




Village Club Le Domaine du Mongade Plainfaing
Vosges Jura
-
Orbey
Room 2 pers. half board

Rental located 201.3 km far from Prémanon les rousses
588 €




Hôtel Les Vallées
Vosges Jura
-
La bresse
Triple room

Rental located 179.5 km far from Prémanon les rousses
1067 €




Hôtel Les Vallées
Vosges Jura
-
La bresse
Quadruple room

Rental located 179.5 km far from Prémanon les rousses
1242 €